FAACT
Stop chiropractic neck manipulation!
Canadian regulations must be changed!
Must Read!!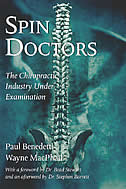 Spin Doctors
The ChiropracticIndustry UnderExamination
Paul Benedetti
Wayne MacPhail
Canadians visit chiropractors about thirty million times a year, and surveys show that patients are generally satisfied with them. But Paul Benedetti and Wayne MacPhail have another opinion. Their hard-hitting CANOE.CA web site called Spin Doctors I & II were instrumental in educating the public about the excesses of some chiropractors. This book took years to write, and it is a must read for anyone who plans to go for chiropractic treatment, or who pays for insurance that covers it.
ChiroWatch
Disciplinary Actions
CCO Annual Report 2002Disciplinary Actions
Roger Turner, DC - Barrie
CCO alleged that Dr. Roger Turner had committed acts ofprofessional misconduct, including engaging in conduct orperforming an act or acts that, having regard to all thecircumstances, would reasonably be regarded by members asdisgraceful, dishonourable or unprofessional, contrary to Ss. 51(1) (c) of the Code and paragraph 1.33 of the ProfessionalMisconduct Regulation.

Agreed Statement of Facts

The parties agreed to a statement of facts summarized below.
Dr. Turner (the "Member") has been a member of CCO since1974. He is a self-employed chiropractor and has twochiropractic offices, one in Barrie, Ontario, and one in North Bay, Ontario.
CCO received a letter of complaint about the Member'sadvertising and other activities from a local chiropractic society.The Member had advertised and sent mailings to local residentsthat included:
a letter to a former patient asking why the patient was notattending for treatment, indicating that the patient neededspine and skull treatment immediately, and offering a pricespecial treatment as an inducement to make an appointment;
a post card advertising an educational video "That could save your life"concerning parasites feeding on humans;
a letter to patients offering a "Referral Reward Program" wherefor every referral that becomes a patient, the referring patientwould receive a gift certificate at the YMCA or twocomplimentary adjustments;
a parasite lifestyle checklist used to diagnose the presence of parasitesand recommending a "parasite cleanse" from the Member's office; and
an endorsement for an "amazing" diet product.During the course of CCO's investigation into the complaint, theMember admitted that he tests his patients for parasites by having theirblood drawn at his clinic and viewing the blood samples through amicroscope ("live cell analysis").The Member acknowledges that chiropractors are not permitted underthe Regulated Health Professions Act to perform any procedure under thedermis, such as drawing blood, and that they cannot delegate thatcontrolled act to another person. The Member also acknowledges thatchiropractors are not permitted to identify for patients whether parasitesare present. The Member acknowledges that only licensed collection centresestablished under the Laboratory and Specimen Collection Centre LicensingAct can analyze human blood specimens, and that his clinics are notlicensed collection centres.The Member acknowledges that neither he nor anyone at his clinic hasengaged in dark field microscopy or live cell analysis since March 2001.Joint Submission as to Penalty The parties agreed on a submission as to penalty summarized below,namely, that the Discipline Committee make an order:
Finding that the Member has committed acts of professional misconduct,and in particular, he
engaged in conduct or performed an act that, having regard to allthe circumstances, would reasonably be regarded by members asdisgraceful, dishonourable or unprofessional, contrary to subsection51(1)(c) of the Code and paragraph 1.33 of the ProfessionalMisconduct Regulation, and in particular, he:
published and/or distributed inappropriate promotional materialto patients;
inappropriately delegated blood testing and analysis of his patients;
inappropriately delegated dark field microscopy to technicians inhis office;
identified for patients whether parasites were present when he wasnot qualified to do so; and
contravened a standard of practice of the profession or failed tomaintain the standard of practice of the profession expected ofmembers of the profession with respect to his advertising, contrary tosubsection 51(1)(c) of the Code and paragraph 1.2 of the ProfessionalMisconduct Regulation.
Requiring the Member to appear before the panel to be reprimanded;
Requiring that the Member comply with the Undertaking signed by himand attached to the Resolution Agreement;
Requiring the Member to pay a portion of CCO's investigative and legalcosts in the amount of $2,500 with $300 payable January 1, 2003, and$200 per month thereafter for 11 months.
The panel, following deliberation, held the joint submission appropriatelyaddressed the Member's professional misconduct and imposed theproposed penalty.
Back to Roger L Turner on ChiroWatch.com
Support ChiroWatch

We are not funded by any organization, and that includes the pharmaceutical industry, or medical associations or groups. So, if you value ChiroWatch for the work we do, please help us pay for our ongoing research and cost of running the web sites. Without you, we would not be able to sustain this most important site.

Thank very much for your support
Terry Polevoy
ChiroWatch.com
---
Feel free to support ChiroWatch with Amazon Honor System
Place an order with VistaPrint for 250 FREE high-quality color business cards, and ChiroWatch receives a commission on the sale.