Just Released


The Chiropractor's
Self-Help Back
and Body Book

Sam Homola, D.C.


This is Sam Homola's latest book. What a relief to find a book that is an honest appraisal of how to treat the aches and pains of everyday living. If you are high on chiropractic, then this book should be on your shelf. Dr. Homola practiced for years as a chiropractor and his knowledge is based on those years of practice. Order it today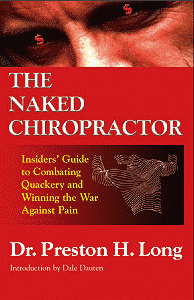 The Naked Chiropractor
Insider's Guide
to Combating Quackery
and Winning the War
Against Pain
Dr. Preston H. Long
The Naked Chiropractor exposes everything you need to know about back pain and the facts Chiropractors and Alternative Medical Practitioners prefer that you did not know. The inside story of the wars between unscrupulous practitioners and insurance companies. Behind the scenes stories about what's really going on at State chiropractic boards across the nation.
Applied Kinesiology - hands off please!!
Applied kinesiology or AK as it is known in the field is in my opinion just about the worst form of quackery in alternative health care. If ranks right up there with Hulda Clark's Zapper, Michael Pinkus' B-1 Bomber, Laetrile, Uri Geller, and ESSIAC. It can actually be harmful because it may interfere with medical treatments by competent health care practitioners. If these people are actually licensed in a regulated health profession, it reduces their practices to nothing more than snake-oil salesmen/women.

This section of ChiroWatch includes links to AK sites around the world, some critical, some not critical. We suggest that if your chiropractor uses applied kinesiology in their office, in your shopping mall, or on your TV cable channels to drum up business, then you should be taking your business to someone else. The other thing you could do is to report them to the Better Business Bureau, and the chiropractic regulatory board or college in your State or Province.
AK Links


If you have a story to tell about a quack doctor or therapist in your area, please let us know. When you see a "natural" product that guarantees that it will make you "healthy", or perhaps cure cancer, let us know. If your health care provider offers you a contract for a set number of visits, or tells you that the only way to find out what's wrong with you is to take a test using an electrodermal device, such as a Vega or B.E.S.T. meter, report this immediately.
Fax your news clippings to 519-725-4953
E-mail to: ChiroWatch