Support ChiroWatch.com
HealthWatcher.net

If you would like to support our efforts to educate the public about the serious problems that face the chiropractic industry today, ChiroWatch is now available for your donations. Whether you have been injured by a chiropractic manipulation, scammed by one of their bizarre methods or gizmos, or told that your child should never get their shots, you now have the chance to help us continue this valuable free service.
Laurie Jean & Lana Dale Memorial Moratorium
April 30, 2004 - Across Canada press conferences were held by the families and their supporters to demand an immediate stop for all chiropractic high neck manipulations. The chiropractic regulators across Canada have failed to voluntarily halt this useless and dangerous procedure. There have been two inquests that found that the chiropractors were at fault. There have been numerous lawsuits over the years, and yet the procedures continue with the blessings of chiropractic associations and regulators. Governments that cover chiropractic still pay for this procedure. The families are supported by pediatricians, neurologists, and other experts who have seen the chiropractic regulators dance around any thought of meaningful self-regulation.
Press release - April 30, 2004
Must Read!!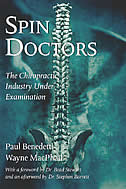 Spin Doctors
The Chiropractic Industry Under Examination
Paul Benedetti
Wayne MacPhail
Canadians visit chiropractors about thirty million times a year, and surveys show that patients are generally satisfied with them. But Paul Benedetti and Wayne MacPhail have another opinion. Their hard-hitting CANOE.CA web site called Spin Doctors I & II were instrumental in educating the public about the excesses of some chiropractors. This book took years to write, and it is a must read for anyone who plans to go for chiropractic treatment, or who pays for insurance that covers it.
How to Use ChiroWatch's Crimes Page
The news stories on this page often are dead links because they are news items.
If you would some great links try these:
Crime, Corruption, bribes, scams, sexual abuse:
All in a back-breaking days work for some chiropredators
Colorado chiropractor charged with impersonating a physician - April 10, 2004

Robert Masteller also is accused of defrauding Medicare and Medicaid. A state grand jury indicted him on 30 criminal counts, including criminal impersonation and distributing controlled substances. Masteller owns and operates the Mountain Vista Chiropractic & Medical Center at 1750 Mountain View Ave., Longmont.

4 San Jose, Californians charged with practicing medicine without licenses
November 21, 2003
By Barbara Feder Ostrov and Hong Dao Nguyen - Mercury News

SAN JOSE MAN ALLEGEDLY BOTCHED BREAST IMPLANTATION - A San Jose man has been arrested on charges of practicing medicine without a license after he allegedly performed an illegal, after-hours breast-implant operation in a San Jose chiropractor's office, slicing into a young woman's chest with only local anesthetic as she reclined in a dentist-style chair. The woman's breasts were mutilated.

Joanne M. Gallagher sentenced to 18 months in prison - March 13, 2004

HARRISBURG - Dawn Strohecker says she won't stop fighting. She can't. She watched in tears Monday as U.S. District Court Judge Christopher Conner sentenced Hazleton chiropractor Joanne M. Gallagher to 18 months in federal prison in connection with the 1999 death of her daughter, 30-year-old Kimberly Strohecker of Hegins Township. She died April 29, 1999, after following Gallagher's advice to stop taking her anti-seizure medication. Her mother, Dawn, tried to convince the Schuylkill County District Attorney to file criminal involuntary manslaughter charges against Gallagher, but the district attorney contended there wasn't enough negligence for Strohecker's death to be considered a crime.

Charismatic chiropactor gets 1 1/2 years - March 9, 2004

To chiropractor Joanne Gallagher and her patients, her practice is almost like a religion. One patient described her laying on of hands as "a gift. In my church it's called grace." Outside a federal courtroom yesterday in Harrisburg, some of her 200 followers and supporters recited the rosary. That faith, prosecutors say, cost a woman her life when Gallagher insisted she could cure her epilepsy without medicine by waving her hands around the woman's head -- what she called "balancing the meninges."

Tedd Koren was a witness for Gallagher.

Pennsylvania chiropractor guilty - her care resulted in death of seizure patient
July 3, 2003
BY PETE SHELLEM - Of The Patriot- News
A taped phone call in which a Luzerne County chiropractor assured a woman that a dying epileptic would be all right without anti-seizure medication led to a guilty plea to fraud yesterday in U.S. Middle District Court. Joanne M. Gallagher, 43, of Hazleton, pleaded guilty to a single count of mail fraud which carries a maximum term of five years in prison.

Bizarre therapy leads to patient's death - Stephen Barrett's opinion re: Joanne Gallagher

Can't touch this - - Nov. 27, 2002 - Wilmette, Oregaon A crackdown on sexual misconduct has stirred up a spinal flap among Oregon chiropractors. Mauro Civica is one of the true believers. In his desire to heal, he was willing to go where most of his colleagues do not, employing a technique that many chiropractors have never heard of--massaging muscles along the vaginal walls to relieve a certain type of lower-back pain. Within three years of opening his practice, Civica sparked six complaints to the state chiropractic board, including four from female patients.

Cincinnati chiropractor pleads guilty on numerous charges - Nov 20, 2002 - Turned in by his associate, Vincent Denittis originally was charged with 15 counts of insurance fraud and worker's compensation fraud for helping stage the wreck and other scams in which he double- and triple-billed insurance companies for work he never did. He coerced someone to drive their car head on into a tree at 70 mph to collect money, then never paid them. What a loser this guy is.

New Jersey insurance fraud endictments in huge accident ring - July 23, 2002 - DIVISION OF CRIMINAL JUSTICE - OFFICE OF INSURANCE FRAUD PROSECUTOR ANNOUNCE CHARGES AGAINST 28 PERSONS FOR ALLEGED INVOLVEMENT IN MULTI-MILLION $ "STAGED" ACCIDENT AND INSURANCE FRAUD CONSPIRACY

Kinky Therapy for Your Back - L.A. Times - May 3, 2002 - Desperate times for chiropractors drive some to set up shop with prostitution rings, officials say. Operators say they were tricked.

Chiropractor to stand trial on sexual assaults Feb 12, 2002 - Colorado chiropractor tells patients that he can treat tension in their chests if they let him perform total body massage and more.
Health Care Pros Charged With Bribery - (TRENTON, New Jersey) April 22, 1999 -- Two New Jersey chiropractors and the operator of a physical therapy business have been charged with insurance fraud. An indictment accuses them of conspiring to obtain computerized accident records from the North Bergen Police Department by bribing a supervisor. Three alleged ``runners'' were charged with using bribes to get similar records from Newark police. Those indicted include Robert Matturro, owner of chiropractic offices in Bloomfield and Union City; Nicholas Rosania, who practiced at the Union City office; and Annette Licea, operator of a physical therapy business above Matturro's Union City office. Insurance Fraud Prosecutor Ed Neafsy described them as, quote, ``the top of the fraud chain.''
Convicted Killer Wants New Trial - (MARIETTA.GA) - April 16, 1999-- A former Cobb County chiropractor... convicted of killing his wife... is asking for a new trial. Jack Ray Wallace of Powder Springs claims he did not get a fair trial because his lawyer, now dead, was impaired by alcohol while trying the case. Kimberly Wallace was killed in 1990. Her body was discovered stuffed into an airplane toolbox.
Chiropractor Sentenced - (MARIETTA, GA) - April 16, 1999 -- A Marietta chiropractor has been sentenced to two-and-a-half years in prison for insurance fraud. According to federal prosecutors, F. Scott Culberson paid runners to refer patients to him involved in auto accidents. He then padded their bills to insurance. Culberson still faces charges of under-reporting nearly two-Million dollars in income.
Allstate files suit against Allied Trauma - Morris County, N.J. - April 7, 1999

Allstate New Jersey Insurance Company filed a civil suit today against a husband-wife chiropractic team accused of participating in fraudulent auto insurance schemes. The action follows those taken Wednesday by state criminal investigators who executed search and seizure warrants against the practitioners as well as a transportation company suspected of complicity in the alleged fraud scheme.

Chiropractor Convicted of Filing False Tax Returns - FOUNTAIN VALLEY, Calif.--(BUSINESS WIRE)--March 29, 1999 -- A Fountain Valley man has been convicted of filing false tax returns that failed to report $388,000 in income he received for treating victims of automobile accidents. He was also charged with kickback.
Chiropractor loses license for fraud - Bergen County, N.J.- March 26, 1999

A chiropractor was stripped of his license Thursday and assessed $101,000 in fines and fees for taking part seven years ago in a multimillion-dollar insurance fraud at a medical office in Passaic.

submitted $52 million in questionable bills
5,000 people received meaningless treatments
inflicting unnecessary and painful treatments to inflate bills
falsifying records, allowing unsupervised testing of patients, and treating patients in an "illusory and/or ineffective manner."

Rehab owner sentenced in frauds - Philadelphia - March 23, 1999 - Eric C. Keck will spend 10 years in prison for bilking insurers and investors of more than $11 million.

Keck, 37, of Bryn Athyn in Montgomery County, opened rehab clinics in five suburban fitness centers between 1996 and January 1998 with money from individual investors, who were promised up to 30 percent return on their money. The clinics purportedly provided exercise and personal training services to injured patients. But many of Keck's "patients" were fitness buffs and amateur athletes whom Keck promised free memberships at the fitness centers in exchange for posing as injured people in need of therapy.

Chiropractors Sued - (SACRAMENTO) -- March 19, 1999 - One of Sacramento's most visible chiropractic businesses is suffering some pains of its own. Over the past week, California Back and Neck Pain Specialists has been sued by a major workers' compensation firm... and settled thousands of dollars worth of allegedly fraudulent insurance claims. The company, which is under court order to stop practicing medicine without a license... is also the focus of an investigation by the California Board of Chiropractic Examiners.
20th Century insurance sues a Glendale chiropractor and his clinic for $8 million. By LIZ PULLIAM, L.A. Times Staff Writer -
License Suspended In Fraud Case - (INDIANAPOLIS) -- March 13, 1999 - The state has issued an emergency license suspension for a Valparaiso chiropractor accused of bilking Medicaid out of Millions of dollars. The license suspension for Doctor Robert Guzek will last for 90-days... or until a formal hearing is held. The state attorney general's office alleges that Guzek performed medically unnecessary treatments on patients who were as young as one month old... fabricated diagnoses... and paid marketers to cruise low income neighborhoods and round up Medicaid patients for treatment.
Chiropractor Convicted Of Fraud - (GARY, Indiana) -- January 7, 1999 - A Lake County chiropractor has pleaded guilty to Medicaid fraud for allegedly performing unnecessary tests and treatment on children. Michael Vandersluis of DeMotte was one of several chiropractors accused of fraud during an 18 month long federal investigation. Vandersluis, who faces five years in prison, has agreed to pay more than one million dollars in restitution. (This was the guy on ABC's 20/20)
Chiropractor Admits Fraud - (ATLANTA) -- January 7, 1999 - A Marietta chiropractor admits being involved in as much as three million in false billings. Scott Culberson faces up to 13 years in prison and a fine of 750-thousand dollars. Federal officials say Culberson paid ``runners'' to bring patients injured in auto accidents. Officials say he also inflated bills by charging patients for treatments on days they did NOT visit the office.
Waste, fraud and financial mismanagement at the Oklahoma Board of Chiropractic Examiners - KWTV Reporter Chris Halsne - Sept. 15, 1998 - "Kelli Novotny was an assistant financial officer at the board that is supposed to make sure Oklahoma's 800 chiropractors follow the rules and the law. It appears to me however that nobody was watching over the board and it's staff. KELLY NOVOTNY HAD A STATE-TAXPAYER-PAID CELL PHONE. WE PULLED A YEARS WORTH OF BILLS. 123 PAGES, THOUSANDS OF CALLS.. NEARLY ALL OF THEM PERSONAL ONES.. TO HOT TUB INSTALLERS, OLD BOYFRIENDS, AND ONE INTERESTING NOTE.. SOME LATE NIGHT CALLS TO CHIROPRACTOR BOARD MEMBER DR. MICHAEL ZUGLEDER OF TULSA. It is literally bankrupt. One member told me, the Chiropractic Board could owe state taxpayers around $100,000 and this board does not have the money to pay it back."
Medicare, Medicaid fraud a billion-dollar art form in the US - Milan Korcok - CMAJ 1997;156:1195-7

When an Ontario court sentenced a Toronto-area chiropractor to 90 days in jail last year for billing the Ontario Health Insurance Plan (OHIP) for $65 000 worth of services he had never provided, health ministry regulators hoped they had sent a clear signal about the risks taken by those who loot the public trough.

The next time, stick to spines and suggest Ex-Lax - PULASKI, Va. (AP) - A chiropractor who massaged a woman's crotch, telling her the treatment would relieve her constipation, must pay her $140,000 in damages for malpractice.
Chiropractor accused of molesting 6 patients - (Bergen County, N.J.) - December 17, 1998 - A Clifton chiropractor turned himself in to police Wednesday after he was charged with sexually assaulting six of his female patients over the past eight years.
Chiropractor's wolf-husky is put to death after attacking an infant - Tiffin, Ohio - December 17, 1998 - Dr. Jerrold Solomon repeatedly charged with allowing his animals to roam neighborhoods and victimize his community.
Chiropractor Sentenced - (TOLEDO) -- Nov. 25, 1998 - The owner of a chiropractic center in Toledo has been convicted of Workers Compensation fraud. The state says 41-year-old Michael Kerr took more than 200-thousand dollars in insurance payments for work he never did on patients. An F.B.I. agent posed as a patient as part of the investigation of Kerr, who operated the Kerr Chiropractic Center. He's been sentenced to one year in prison and two years probation. He also has to pay all the money back. The Ohio Bureau of Workers Compensation says it was one of the largest cases of its type ever investigated in the state. - Yahoo News
Lawsuit against chiropractor begins - Las Vegas, Nevada - October 15, 1998 - The first of seven women suing Las Vegas chiropractor Jeffrey Donner for molesting them during treatment had been raped in the past and suffers symptoms of trauma as a result of her second victimization, an attorney said Wednesday in opening statements of the lawsuit.

Jury assesses chiropractor $3 million - A jury Wednesday awarded a woman $3 million in damages from the chiropractor who molested her. The issue of damages should come down to a single question. "What is the value of a woman's right not to be sexually violated by her doctor."

Goshen chiropractor faces lewd-conduct charges - By SUE DILLMAN - Tribune Indianapolis Bureau
From Chiro.org - "Fraudulent Practices" by William Cockburn, D.C., Diplomate Forensic Examiner - THIS POST SHOULD BE READ CAREFULLY BY ALL LIST MEMBERS INVOLVED IN PERSONAL INJURY - WORKERS COMPENSATION AND INSURANCE BILLING PRACTICES. - Bill's story about a convicted chiropractor at the hub of a multi-million dollar scam is followed by his own personal involvement with trying to counsel one chiropractor who just didn't seem to care that gizmos and procedures are all he needs to justify treatment.
Jacksonville, Florida area chiropractors, clinics face racketeering charges - Alleged scheme targeted insurance By Bruce Bryant-Friedland Times-Union business writer. State investigators arrested six people yesterday, including three Jacksonville chiropractors, on charges of bilking insurers out of more than $2 million in unnecessary treatments.
Search Gary, Indiana Post Tribune for stories about chiropractors - If you want to download there will be fees.
Suit filed against University of Illinois by chiropractic clinic - A local chiropractic clinic is suing the University because it claims the school's Medical Insurance Benefits Center is hurting its business. The University then sent a letter to students who received treatment, questioning the "medical necessity" of Snell's treatments.
Chiropractor's alignments way out of line - A Boston chiropractor and his wife, who served as executive director of the practice, recently pled guilty to many counts of fraud. The couple were convicted of diagnosing workers' comp and auto accident patients with serious injuries and providing them with extensive treatment -- whether they needed it or not.
Florence, South Carolina Chiropractor Convicted Of Computer Fraud - Lee admitted to filing fraudulent claims to gain access to the computer system of the South Carolina Medicaid Program. He will not be able to participate in the state's Medicaid program for a minimum of five years.
Las Vegas chiropractor convicted of mail fraud - Thomas Mark Shleifer, D.C., participated in a scam in which he claimed to treat five people who rammed their car into a telephone pole on Lake Mead Boulevard.
L.A. Lawyer and Five Others Arrested for Scam Accidents and Insurance Fraud - Retired chiropractor Kenneth Paul Blanker, 62, of Lake Havasu. Blanker was arrested on conspiracy allegations, including assault with a deadly weapon, insurance fraud, grand theft and capping.
California chiropractor sentenced to one year in jail - sexual assault and insurance fraud
Indicted chiropractic firms fight back with city suit - Lubbock, Texas - Three local chiropractic firms indicted in January for organized crime - allegedly bribing police records clerks for accident reports - now are suing the city of Lubbock and its police department for no longer offering access to those reports.
Blue Cross and Blue Shield of Kansas resolves lawsuit against chiropractors; Two Wichita brothers to pay $200,000 to the Blues
Cuyahoga County Chiropractor and massage therapist wife indicted for $181,800 in Workman's Compensation Fraud
LOCAL CHIROPRACTOR JAILED - Westchester County District Attorney Jeanine Pirro announced that Thomas A. Butti, 41, of Scarsdale, New York, a chiropractor with an office on Seminary Road in Yonkers, New York, faced a maximum sentence of five to fifteen years in State prison when he was sentenced. Butti admitted that between January 1991 and March 1992, he engaged in a scheme that stole approximately Two Hundred Eighty-Five Thousand Nine Hundred Twenty Dollars ($285,920.00) from the Guardian Life Insurance Company of America by submitting numerous false claims for payment to that company.
DUTCHESS COUNTY CHIROPRACTOR ARRESTED FOR INSURANCE FRAUD - New York, October 2, 1998 - Chiropractor practice what he preaches
Chiropractor arrested again for practicing without license - His previous conviction was for insurance fraud
Disciplinary actions against chiropractors -

Suncoast Florida. delegating untrained personnel, exploiting patients for financial gain, etc.
Dade County - Cocaine sales, sexual touching, insurance scams, kickbacks,

State of Florida rounds up almost 200 in $10 million fraud scheme: Cash for Crash ring arrested. The leaders of the ring are accused of offering small sums of money to low-income people to participate in staged accidents with a car driven by a co-conspirator. Then a chiropractor or lawyer would file claims for phony injuries.
8 chiropractors face charges in 3-year state fraud probe - Columbus Dispatch - Eight chiropractors trained to treat backaches are facing headaches with their licensing board. All are affiliated with Tri State Chiropractic Clinics and face charges by the State Board of Chiropractic Examiners, including fraud, improper patient solicitation, false advertising and allowing unlicensed staff members to perform care.