Just Released


The Chiropractor's
Self-Help Back
and Body Book

Sam Homola, D.C.


This is Sam Homola's latest book. What a relief to find a book that is an honest appraisal of how to treat the aches and pains of everyday living. If you are high on chiropractic, then this book should be on your shelf. Dr. Homola practiced for years as a chiropractor and his knowledge is based on those years of practice. Order it today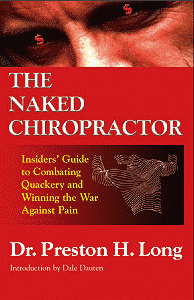 The Naked Chiropractor
Insider's Guide
to Combating Quackery
and Winning the War
Against Pain
Dr. Preston H. Long
The Naked Chiropractor exposes everything you need to know about back pain and the facts Chiropractors and Alternative Medical Practitioners prefer that you did not know. The inside story of the wars between unscrupulous practitioners and insurance companies. Behind the scenes stories about what's really going on at State chiropractic boards across the nation.
So, you always wanted to be a chiropractor?
Click here if you need some help to decide how you want to represent yourself as a health care professional.