Support ChiroWatch.com
HealthWatcher.net

If you would like to support our efforts to educate the public about the serious problems that face the chiropractic industry today, ChiroWatch is now available for your donations. Whether you have been injured by a chiropractic manipulation, scammed by one of their bizarre methods or gizmos, or told that your child should never get their shots, you now have the chance to help us continue this valuable free service.
Laurie Jean & Lana Dale Memorial Moratorium
April 30, 2004 - Across Canada press conferences were held by the families and their supporters to demand an immediate stop for all chiropractic high neck manipulations. The chiropractic regulators across Canada have failed to voluntarily halt this useless and dangerous procedure. There have been two inquests that found that the chiropractors were at fault. There have been numerous lawsuits over the years, and yet the procedures continue with the blessings of chiropractic associations and regulators. Governments that cover chiropractic still pay for this procedure. The families are supported by pediatricians, neurologists, and other experts who have seen the chiropractic regulators dance around any thought of meaningful self-regulation.
Press release - April 30, 2004
Must Read!!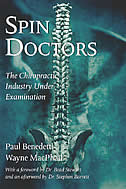 Spin Doctors
The Chiropractic Industry Under Examination
Paul Benedetti
Wayne MacPhail
Canadians visit chiropractors about thirty million times a year, and surveys show that patients are generally satisfied with them. But Paul Benedetti and Wayne MacPhail have another opinion. Their hard-hitting CANOE.CA web site called Spin Doctors I & II were instrumental in educating the public about the excesses of some chiropractors. This book took years to write, and it is a must read for anyone who plans to go for chiropractic treatment, or who pays for insurance that covers it.
When it comes to the latest chiropractic news turn to ChiroWatch.com. We deliver the news that you may not be able to find on the average chiropractic web site. Whether you're troubled about your loss of insurance coverage, legislation that effects your own practitioner, insurance fraud, or scandals about chiropractic education you can be sure that we will try to cover it.
Chiropractic claims debunked
Latest evidence based studies expose the myths about the major claims made by chiropractic marketers, schools, and practitioners.
An often repeated claim is that chiropractic manipulation can help pediatric asthma patients. Results of that research were not published until October 8, 1998. But that never stopped some chiropractors from insisting that that they can successfully treat kids for this condition, with just a twist of the neck or spine. If you want to see the original asthma article in its entirety, just visit the New England Journal of Medicine site.
If you want more articles from about the basic tenets of chiropractic, namely the use of manipulation as a major treatment of low back pain, you might not be surprised with the results of the study above: