Support ChiroWatch.com
HealthWatcher.net

If you would like to support our efforts to educate the public about the serious problems that face the chiropractic industry today, ChiroWatch is now available for your donations. Whether you have been injured by a chiropractic manipulation, scammed by one of their bizarre methods or gizmos, or told that your child should never get their shots, you now have the chance to help us continue this valuable free service.
---


The Chiropractor's
Self-Help Back
and Body Book

Sam Homola, D.C.


This is Sam Homola's latest book. What a relief to find a book that is an honest appraisal of how to treat the aches and pains of everyday living. If you are high on chiropractic, then this book should be on your shelf. Dr. Homola practiced for years as a chiropractor and his knowledge is based on those years of practice. Order it today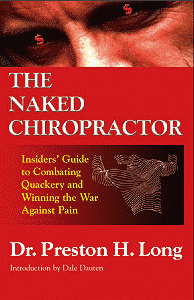 The Naked Chiropractor
Insider's Guide
to Combating Quackery
and Winning the War
Against Pain
Dr. Preston H. Long
The Naked Chiropractor exposes everything you need to know about back pain and the facts Chiropractors and Alternative Medical Practitioners prefer that you did not know. The inside story of the wars between unscrupulous practitioners and insurance companies. Behind the scenes stories about what's really going on at State chiropractic boards across the nation.
FCER - Foundation for Chiropractic Research
The FCER has just moved their web site and has taken down most of the topics that have been previously linked to them. Those comments included their reactions to the Wall Street Journal article, and an old 20/20 show. We don't know why they took them down, do you?
What exactly is a chiropractic neurologist?
Frederick Carrick explains how he treats movement disorders, dystonia, and a variety of other neurologic disorders.

There seems to be a growing demand for nonpharmaceutical approaches in a variety of disciplines, which benefits the chiropractic neurologist. Although we are not vehemently against the utilization of surgery or drugs, our therapies do not entertain the use of them.

Blindspots And Chiropractic -- Chiropractic Adjustments have a direct effect on brain function

Dr. Fred Carrick recently published his dissertation, NEUROPHYSIOLOGICAL IMPLICATIONS IN LEARNING in order to fulfill his requirements for the degree of Doctor of Philosophy in Education. He did a study on five hundred participants where blind spot mappings were produced with changed noted before and after chiropractic adjustments.

How Does Subluxation Affect the Nervous System? - David Seaman, D.C.

A 1954 study done by a medical doctor is the basis for Seaman's paper.