Support ChiroWatch.com
HealthWatcher.net

If you would like to support our efforts to educate the public about the serious problems that face the chiropractic industry today, ChiroWatch is now available for your donations. Whether you have been injured by a chiropractic manipulation, scammed by one of their bizarre methods or gizmos, or told that your child should never get their shots, you now have the chance to help us continue this valuable free service.
Laurie Jean & Lana Dale Memorial Moratorium
April 30, 2004 - Across Canada press conferences were held by the families and their supporters to demand an immediate stop for all chiropractic high neck manipulations. The chiropractic regulators across Canada have failed to voluntarily halt this useless and dangerous procedure. There have been two inquests that found that the chiropractors were at fault. There have been numerous lawsuits over the years, and yet the procedures continue with the blessings of chiropractic associations and regulators. Governments that cover chiropractic still pay for this procedure. The families are supported by pediatricians, neurologists, and other experts who have seen the chiropractic regulators dance around any thought of meaningful self-regulation.
Press release - April 30, 2004
Must Read!!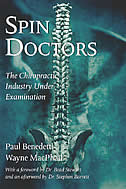 Spin Doctors
The Chiropractic Industry Under Examination
Paul Benedetti
Wayne MacPhail
Canadians visit chiropractors about thirty million times a year, and surveys show that patients are generally satisfied with them. But Paul Benedetti and Wayne MacPhail have another opinion. Their hard-hitting CANOE.CA web site called Spin Doctors I & II were instrumental in educating the public about the excesses of some chiropractors. This book took years to write, and it is a must read for anyone who plans to go for chiropractic treatment, or who pays for insurance that covers it.
When it comes to the latest chiropractic news turn to ChiroWatch.com. We deliver the news that you may not be able to find on the average chiropractic web site. Whether you're troubled about your loss of insurance coverage, legislation that effects your own practitioner, insurance fraud, or scandals about chiropractic education you can be sure that we will try to cover it.
What some people say about chiropractors and manipulation?
"It is high time that responsible medical practitioners speak out strongly against this pseudo-professsion and begin educating the public about the risks involved with being treated by chiroquacters."
CPSO COMMITTEE SAYS "THERE IS NO ALTERNATIVE TO GOOD MEDICINE" - The College of Physicians and Surgeons of Ontario held hearings in 1997 to discuss alternative medicine. The Committee heard repeatedly that alternative medical approaches did not lend themselves to standard quantitative research design, (e.g. double blind randomized controlled studies); further that 80% of conventional medical practices had not undergone such scrutiny. Parenthetically, the Committee finds the latter comment to be inconsistent with experience in their own disciplines, and with the practice of conventional medicine in general, where thousands of studies are conducted and published, doubling and advancing the body of knowledge of medicine, it is said, every four years.
(My comments: York University has been widely known for stamping out reason and in denying the rights of others to express their views. The blackshirts of the North York campus tossed out protestors as if they were rats on a ship, when those people protest against the lies of the tobacco industry at the du Maurier Tennis events held on campus. Now they will be defending the rights of chiropractors to advance their quack cures for hundreds of diseases, that they can't legitimately treat, but do anyway. Only now, they can hold out the fact that York University is part of their pseudoscience forever.)

Chiropractic - A skeptical guide - Stephen Barrett, William T. Jarvis, and Charles E. DuVall, Jr. - A Skeptical Guide to Chiropractic History, Theories, and Current Practices
AHCPR - National Institutes of Health and its Agency for Health Care Policy Research never mentions chiropractic- do they?

Manipulation, defined as manual loading of the spine using short or long leverage methods, is safe and effective for patients in the first month of acute low back symptoms without radiculopathy. For patients with symptoms lasting longer than 1 month, manipulation is probably safe but its efficacy is unproven. If manipulation has not resulted in symptomatic and functional improvement after 4 weeks, it should be stopped and the patient reevaluated.

(There is no mention of chiropractic, and pay attention to the statement about the duration of treatment of low back pain. Chiropractors however often use this four year old report to support their case. Somehow I don't see it the same way they do. You don't have to be able to read between the lines here. Use this site to counter their misinformation campaign.)

Chiropractic: The Victims Perspective - George J. Magner, III - a book review by William T.Jarvis - "Many who choose chiropractic as a career have been misled by government policies and educational counseling materials that portray chiropractic as part of standard health care. Prospective students are lured by false promises of status and success. At most chiropractic colleges, students are exposed to cultlike indoctrination into a deviant belief system. They are taught false theories of disease and healing and persuaded to accept them as gospel. They are taught to disdain science and distrust medical doctors. A few reform-minded schools are trying to move away from teaching chiropractic philosophy as a substitute for science, but these are under attack as heretical."
Chiroquacktics: - Chiroquacktic manipulations and practice has been documented as harmful in many ways. These include:

The fact that chiropractic manipulation is the most frequent cause for extra-cranial carotid artery thrombosis
Their inability to scientifically diagnose disease has resulted in life threatening delays in diagnosis for malignancy, etc etc.
They abuse x-rays, often ordering whole body x-rays and other inappropriate studies.

Not so crazy about Chiropractic - Dr. Andrew Weil - I object to the way that many chiropractors encourage patients to become dependent on them and on spinal manipulation, and I deplore their overuse of X rays.(Dr. Weil has links to the American Chiropractic Association site that says nothing negative about their group. Caveat emptor.)
Chiropractic: A Fantasy and Delusion - JAMA October 1998
Chiropractic for Children - Journal of the American Medical Association letter
American College of Physicians - Letters to editor on snake oil and fraud
Chiropractic Consortium Becomes OAM's Eleventh Research Center - The NIH Office of Alternative Medicine (OAM) and the National Institute of Arthritis and Musculoskeletal and Skin Diseases (NIAMS) have awarded a research grant to support the first federally-funded Center for Chiropractic Research. "However, there is insufficient scientific data to address the safety and efficacy of this treatment for many musculoskeletal disorders, including chronic pain."
I Bill, Therefore I Am: Philosophers Ponder Therapy Gold Mine - By JOE SHARKEY - NY Times - March 7,1998 - Some chiropractors want to expand their uses of alternative therapies and are lobbying hard to expand coverage for chiropractic treatment to include a variety of ailments, like depression.