Support ChiroWatch.com
HealthWatcher.net

If you would like to support our efforts to educate the public about the serious problems that face the chiropractic industry today, ChiroWatch is now available for your donations. Whether you have been injured by a chiropractic manipulation, scammed by one of their bizarre methods or gizmos, or told that your child should never get their shots, you now have the chance to help us continue this valuable free service.
---
Chiropractic Class Action Lawsuit
---
Just Released


The Chiropractor's
Self-Help Back
and Body Book

Sam Homola, D.C.


This is Sam Homola's latest book. What a relief to find a book that is an honest appraisal of how to treat the aches and pains of everyday living. If you are high on chiropractic, then this book should be on your shelf. Dr. Homola practiced for years as a chiropractor and his knowledge is based on those years of practice. Order it today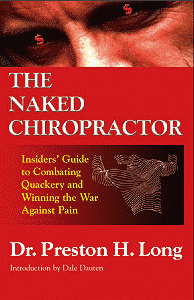 The Naked Chiropractor
Insider's Guide
to Combating Quackery
and Winning the War
Against Pain
Dr. Preston H. Long
The Naked Chiropractor exposes everything you need to know about back pain and the facts Chiropractors and Alternative Medical Practitioners prefer that you did not know. The inside story of the wars between unscrupulous practitioners and insurance companies. Behind the scenes stories about what's really going on at State chiropractic boards across the nation.
David Sloan, fake PhD and RNC on
Colin Elkin's Healthline show on
Rogers 20 the weekend of February 12-14
Complaint filed with the College of Chiropractors of Ontario
Copies were also filed with Rogers and the CTSC the Cable Television Standards Council who is supposed to regulate the cable industry.
David Sloan, PhD, RNC

RR# 5, Conc 10, Cherry Valley Rd.

Waterford, ON

N0E 1Y0

(519) 443-4747

Fax: (519) 443-4667
David Sloan appeared on the Colin Elkin's Health show on Rogers 20 cable TV the weekend of February 12-14. The show is produced by Rogers 20 in Kitchener, but the series is taped in Brantford, home of the office of Colin Elkin. To obtain copies of the tapes, you can contact Greg Grimes, Rogers executive produceer who works in the Kitchener studios.

Colin Elkins has not only starred in his own Brantford taped series, but he has participated in a number of shows taped at Rogers 20 in Kitchener over the last year. During those shows the hostess misrepresented the credentials of his associates who appeared with Colin, and he an his chiropractic associates made several false claims for the appropriate treatment of diseases by chiropractors. Furthermore they have to this day refused to admit that these claims, and presentations were fraudulent.

David Sloan is not a doctor, he is not a PhD. He is a RNC, a registered nutritional consultant who operates in Waterford. There is no recognized profession known as RNC in Canada. There are no academic qualifications for the RNC.

Colin Elkin repeatedly was referred to Sloan as a doctor, which he is not.

Colin Elkin is a licensed chiropractor and is in charge of the content of the production, and he is responsible for placing individuals on his show that have no professionally recognized academic credentials.

As a licensed chiropractor, we are filing an official complaint against him to the College of Chiropractors for continuing to misrepresent his profession to the public, and for his failure to screen the program for misinformation.

It is absolutely essential to the public's safety, and as mandated by the RHPA of Ontario, the College of Chiropractors must take action to assure that their members are providing accurate information and treatment to their clients. Dr. Elkins and the other chiropractors that he has been associated with his shows have not been accurate in what they have told the public. We have copies of all of those tapes, and you can obtain them from Rogers in Kitchener.

The chiropractic society in Kitchener has written about renegade chiropractors in the local paper. We would like Colin Elkins and his merry band of charlatans who masquerade as doctors to leave the airwaves, and we would like the College of Chiropractic to make a public statement about what he and his associates in chiropractic are telling the public.

We would like an immediate response from the CCO, so that we can assure the public that an investigation is underway to examine his public statements.